ABSOLVENT des

MUSICIANS INSTITUTE -
COLLEGE
OF CONTEMPORARY
MUSIC (
www.mi.edu
)
Guitar Institute of Technology / G.I.T., HOLLYWOOD - LOS ANGELES, CA (USA)

Eines der renommiertesten Musikkonservatorien der Welt mit einigen der besten Lehrer!


S
tudierte u.a. mit:

Scott Henderson (Tribal Tech), Danny Gill (Student von Joe Satriani), Nick Nolan, Keith Wyatt (Dave Al
vin/The Blasters, Albert Collins, Ginger Baker, Jack Bruce, Robben Ford),
Carl Verheyen (Supertramp), Paul Hanson (Michael J. Fox/ Zurück i.d. Zukunft), Todd "T.J." Helmerich (Dweezil Zappa, Scott Henderson/Tribal Tech, Derek Sherinian/Ex-Dream Theater Keys), Bruce Buckingham, David Oakes, Dan Gilbert, Joe Elliot, Jamie Findlay, Ross Bolton, Ron Eschete, Sid Jacobs, Steve Trovato, Chas Grasamke, Beth Marlis, Art Renshaw,
Tommy Tedesco (Bonanza, Der Pate, Twilight Zone, Batman, Elvis P., F. Zappa, F. Sinatra, Beach Boys …), Ralph Humphrey (F. Zappa, Steve Lukather, Barbara Streisand…),
Joe Diorio (Pat Metheny, Robben Ford, Gary Willis, David Becker), Tim Bogart (Vannilla Fudge, Bo Diddley, Jeff Beck),
Jeff Berlin, Carl Schroeder (Jimmy Reed, John Lee Hooker, Art Blakey, Sarah Vaughan), Dave Pozzi …

SONG PLATZIERUNGEN
in diversen TV Serien / Dokumentationen etc.
(National Geographic, Discovery Channel, Investigation Discovery, Blast! Films Ltd., Stiletto TV, Brenton Prod., Sharp Entertainment, etc.)
KURZ BIOGRAPHIE:

AUSBILDUNG
- 3 Jährige Ausbildung in klassischer Gitarre
- Autodidakisches lernen von verschiedenen Stilistiken und Gitarren Techniken, Mitglied unterschiedlicher lokaler Bands & Projekte in diversen Stilrichtungen mit lokaler CD Produktion und Veröffentlichung
- Songwriting

- Studium am MUSICIANS INSTITUTE / G.I.T. (Guitar Institute of Technology), Hollywood, CA - USA

DOZENT / LEHRER
- Professioneller und erfahrener Gitarren-, Bass-, Ukulelen-, Keyboard/Klavier und Musiklehrer, Band Coach: Für diverse Musikschulen und regionale und überregionlae Privatstudenten, vom Beginner bis Professionellen Musiker, aus unterschiedlichsten Gesellschafts- und Altersklassen - seit mehr als 15 Jahrenn
- Vorbereitung und Begleitung von Studenten für Aufnahme- und Abschlussprüfungen an
nationalen und internationalen Musikschulen
- Gitarren-WORKSHOPS an diversen allgemeinbildenden Schulen
- Mitbegründer und -inhaber ROLLING MUSIC CREATIVE GbR (Battenberg & Frankenberg/Eder)
- Gründer und ehem. Leiter "MONTREUX CONNECTION" (Jazz/Fusion Ensemble: "GEWINNER des 7. Sparkassen Jugendmusikwettbewerbs des Musikschulkreisverbandes Waldeck-Frankenberg für Instrumentalisten & Ensembles" mit der Eigenkomposition "SWING LOW ON A HIGH WIRE" und Jazz Standards - und auch Platz 1 für den damaligen Schlagzeuger in der Kategorie: SOLO-DRUMS)
- Es ist geplant dieses Ensemble mit neuen Mitgliedern weiterzuführen, ein oder mehrere NEUE Schüler-Ensembles (Musikgruppe bzw. Band) zu Gründen, auch in anderen Stilrichtungen (Rock, Pop, Blues, Metal ...)

GITARRIST ~ BASSIST ~ SONGWRITER ~ MUSIKER
- Gitarrist, Bassist Songwriter, Arrangeur und Produzent für SYRIA (Gothic-Rock-Electro-Psychedelic-World, diverse CD-Veröffentlichungen, Club Tour)

- Gitarrist bei BORN WILD (ehem.), eine der besten (hard/heavy) rock cover-bands Deutschlands, Live Konzerte
- Zweimaliger bester deutscher Beitrag beim "Song Expo Benelux - Int. Song & Culture Festival"

- Eigenes Projekt GASOLINE (Singer-Songwriter /Hard Country Rock / Bluegrass Metal).
Solo Acoustic und Elektric Band: Diverse Auftritte, Zahlreiche Nomminierungen und Auftritte Hessischer & Deutscher Rock und Pop Preis als Band und Solo Künstler (Kategorien Gitarrist, Songwriter, Textdichter, Komposition, Hard & Heavy...)

- Verträge mit diversen Musik Bibliotheken/-Verlagen
(Jingles, Instrumentals etc. in versch. Stilrichtungen)

- AKTIVER SONGWRITER / KOMPONIST (pitching compositions, taxi.com)

- Gitarrist: TWITCH ANGRY (Punk Metal Pop), Sacramento, CA ~ Monsterfest in Merced, CA (USA)

- SLEDGE LEATHER (Heavy Metal), Los Angeles (USA) ~ "IMAGINE ME ALIVE" (CD): Gitarrist, Songwriter, Engineering der Demo Sessions, Programmierer, Arrangieren und Aufnahme aller Gitarrenparts (Rhythmus/Leads, Electric-Acoustic-Baritone), Zusammenarbeit mit Leather Leone (die weibl. Metal Sängerin!), Scott Warren (Keyb. DIO), Jimmy Bain (DIO, Ritchie Blackmores Rainbow, Scorpions Sessions) etc., Zusammenstellung & Tranieren der Live Band (mit weiteren Studenten des GIT & BIT des Musicians Institutes), diverse Auftritte.
Audio Re-Mastering der DVD "SLEDGE LEATHER - ALIVE" (Live vom "Keep It True Festival 2011")
Weitere Metal Kompositionen in Arbeit.
BURNING WINGS (a tribute to 'Strana Officina'), Details siehe unten.

Okt / Nov 2013:
- Derzeit arbeitet Matthias mit Sledge Leather an einem Tribute Song von 'Stana Officana' (italienische Metal Legende). Vertigstellung aller Gitarrenspuren und Veröffentlichung in Kürze.
- Neuaufnahme eines Gitarrensolos für Sacramentos 'Twitch Angry' für deren Showcase im 'King King' Hollywood, CA.

Juli / Aug 2014 - Veröffentlicht: 
BURNING WINGS (a tribute to 'Strana Officina'). Performed by SLEDGE LEATHER auf der Doppel CD "Officina dei Sogni 2" (Loud n' Proud Records).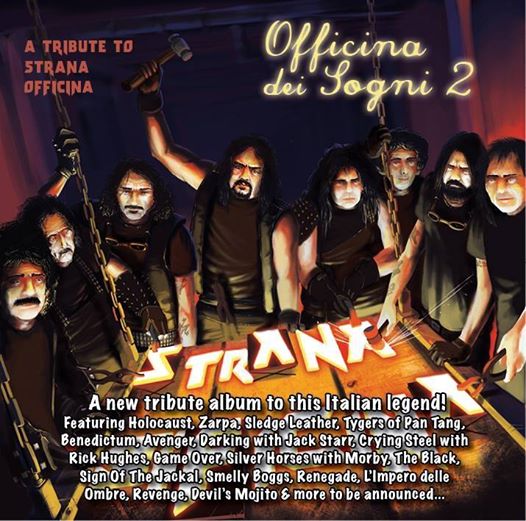 Leather Leone - Vocals
Sandy Sledge - Drums
Matthias Weisheit - Guitars
Scott Warren - Keyboards
Bjorn Englen - Bass 

Produced by Sandy Sledge, Matthias Weisheit
Engineered and Mixed by Juan Urteaga at Trident Studios, Pacheco, CA.
Drums recorded by Patrick Lydon at SPL Studio, Van Nuys, CA.
Sledge uses AXIS pedals, Matthias plays Ernie Ball & Roto Sound strings

Erhältlich u.a.:

Pure Steel Records: www.puresteel-shop.com
Battle Cry Records: www.battlecryrecords.de 
Forever Rock: www.forever-rock.de
Metalizer Records: www.metalizer-records.de/
& Ebay

INFO: facebook.com/officinadeisogni2 -Facebook.com/LoudNProudPistoia - rateyourmusic.com.

Weitere Details auf www.Gasoline-Music.com

Work permits: EU & USA